Ocho Rios Tours and Excursions
Welcome to Native Tours Jamaica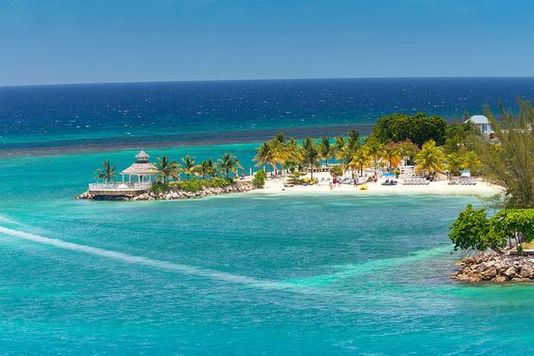 Ocho Rios Guided Tours Near Falmouth
Ocho Rios is a port town on the north coast of Jamaica. Once a fishing village, it's now a resort town with a cruise ship harbor and a busy bay beach that's lined with hotels. The surrounding parish of Saint Ann is home to rain forests, rivers and waterfalls.
Ocho Rios is known for its lush green scenery, popular attractions and world-class resorts. Travelling through this tourist-friendly town, you will be surrounded by lush green tropical foliage with the roar of nearby waterfalls flowing in the Caribbean sea in the backdrop.
Things to do in Ocho Rios
The rivers and waterfalls in and around Ocho Rios make it perfect for river tubing, hiking and exploring. Experience the joy of swimming underneath the refreshingly cool waters of Dunns River Falls or spend the day climbing water falls and interacting with nature at the Blue Hole at Island Gully Falls. Whatever your pleasure, there is a lot of things to do in Ocho Rios. Swim with friendly dolphins, relax on a tube as you float down the White River or soar over Ocho Rios on a zipline with the canopy zipline tour offered by Mystic Mountain Rainforest. Ocho Rios is also famous for Fern Gully, a rocky gorge of tremendous depth which zigzags for about four miles from the Ocho Rios coast up to the central mountain area of the island. Whatever your choice, visitors to Jamaica will delight in visiting Ocho Rios. Because of the close proximity of the many attractions in Ocho Rios, this location is ideal for a fun-filled day. Native Tours Jamaica can help you experience the best of Ocho Rios by arranging a private tour and excursion to suit your schedule and preference.
Where to Stay in Ocho Rios
Ocho Rios has long been one of the best resort destinations in Jamaica for travelers willing to journey the extra mile. From beach-side villas to hotels with panoramic views and lush landscape, Ocho Rios has a range of accommodation options: All inclusive hotels,villas, guesthouses, apartments, and Air BnB.
Tours from Ocho Rios Resort
AIRPORT TRANSFERS • SHORE EXCURSIONS • ISLAND TOURS
Come Experience The Warmth of The Island...